Eternal Patrol
We Remember...Thomas Bond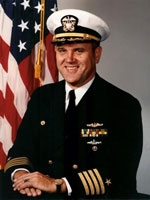 Captain Thomas Henry Bond, U.S. Navy (Ret.), passed away peacefully from complications related to Parkinson's disease at his home in San Diego on November 19, 2007, surrounded by loving family members. He was 70. Tom was born in Memphis, TN, and graduated in 1955 from East High School upon which he entered the United States Naval Academy. He was commissioned into the Navy in 1959 and began his 48-year marriage to his high school sweetheart, Nancy.
In his Navy career, Tom served in six submarines. He commanded the submarine USS JOHN MARSHALL (SSBN 611) Blue. He also had command of two shore-based commands. His career culminated at sea as commanding officer of USS DIXON (AS 37), a submarine tender based in San Diego, CA. He was noted for his particular strength in operational engineering as a nuclear submariner, which was an interest that followed him into retirement.
Tom retired from the U.S. Navy in 1987 and worked as a management and predictive maintenance consultant in power and other industries. The balance of his professional life energies went into his founding role as executive director of MIMOSA, a non-profit organization that develops information sharing standards within manufacturing, fleet and facility industries.
Tom's family and friends knew him as a man of character and integrity with a veritable positive outlook-he was a true gentleman. He always kept his word, was generous beyond measure, and with his intellectual wit put a smile on the faces of those around him. He respected honesty, patriotism and loyalty and led by example. This remarkable man will forever be remembered as a loving husband, supportive father, caring brother, admirable leader and loyal friend.
He is survived by his wife Nancy of Memphis, TN, his brother, William C. Bond of Spokane, WA, and three married children, son, Captain Thomas H. Bond, Jr., U.S. Navy, of Naples, Italy, son, Randal K. Bond, Managing Director of a Purdue University Research Center, of West Lafayette, IN and daughter, Sarah E. Bond-Shepard, Development Director of ElderHelp of San Diego, and twelve grandchildren. A lovely graveside service was attended by immediate family on the morning of November 27th with a joyous celebration of Tom's life at the First Church of the Nazarene in Point Loma that afternoon.